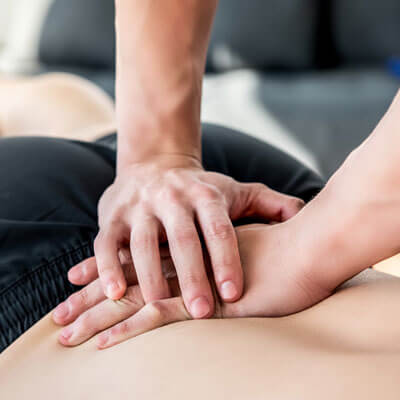 "As chiropractors, we use the adjustment to address spinal misalignments or subluxations that interfere with the quality of the nerve signals from your brain to every cell, tissue and organ of your body," said Dr. Steve.
If you're new to chiropractic, you may wonder if an adjustment is uncomfortable or if significant force is necessary to adjust. The good news is that we can adjust our patients comfortably and with a light touch. Here's a look at our adjusting methods.
Torque Release Technique
Our primary adjusting method is Torque Release Technique (TRT), which uses a handheld instrument similar to a gentle reflex hammer used to test your knee reflex with. TRT is a great technique for those who are apprehensive about other manual styles, or don't like the sounds associated with an adjustment. TRT is also ideal for people with spinal surgery or limited mobility for other reasons.
The TRT assessment helps identify primary subluxations that require adjusting. When primary subluxations are adjusted, other subluxations correct themselves.
"I particularly love TRT because it is easy for the patient to relax for their adjustment." said Dr. Steve. He also loves the technique because it helps teach and empower their own innate healing wisdom to help them heal even better and learn.
Since Dr. Steve learned TRT in 1999 from the originator Dr. Jay Holder, Dr. Steve was awarded advanced proficiency status by Dr. Sony Canteenwala through Torque Release Technique Canada.
Our Other Methods
In addition to TRT, at Chiropractic Generation we use the following:
Diversified, the standard style of manual adjusting
Koren Specific Technique, which uses the ArthroStim® instrument
Correctional spinal orthotics (Dennerolls)
Flag Day Coloring Contest
This month, our practice is having a coloring contest to celebrate National Flag of Canada Day on February 15th. You can print the flag coloring page at home, or bring your kiddos by our office, and they can color the page here. We'll take pictures of the colored pages and post them on Facebook.