Top Rated Chiropractor In Belleville
Get Healthier, Naturally At Chiropractic Generation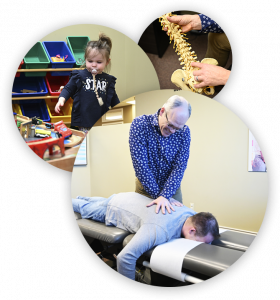 At Chiropractic Generation, we are here to help you get out of pain, reach your health goals and enjoy a lifetime of wellness. Is your pain stopping you from enjoying your life? Would you like to get back to mountain biking, or do you simply want to maximize your health?
Whatever your desired outcomes are, Belleville Chiropractor Dr. Stephen Lippitt will create a personalized plan to get you there. Book your first visit for $150 today. Includes consultation, exam, any necessary X-rays and personalized treatment plan.
We see people suffering from many conditions including back pain, headaches, fibromyalgia, sciatica and much more. Often, our patients have lost hope and don't think there is anything that can be done to help them. Dr. Steve and his caring team love changing their minds!
If you feel nervous about chiropractic or have had a negative experience in the past, let us put your worries aside: we use gentle, low-force techniques that are easily tolerated by all.
We're conveniently located in the Quinte Mall. Call us at (613) 966-4725 or book your appointment online now!

Our Patients Love The Chiropractic Generation Experience
I cannot praise Dr. Lippitt enough! During the COVID pandemic my upper back "went out". The pain I was in was unbearable, I was unable to perform essential tasks in my home for my children such as cooking meals. In addition to pain, the mental fog associated with the pinch made concentrating on simple tasks extremely complicated. I contacted Dr. Lippitt and he told me to come on in.

In the short month that I have been receiving adjustments, the relief, the changes in my body, and how my body runs has changed dramatically! This is by far the best decision I have made for the better of my health, and my 11yr old son is a patient now too! The staff is incredible! Always helpful and friendly!

I cannot thank you enough, Dr. Lippitt and staff! For anyone sitting on the fence, trust me you won't regret it!" Andrea W.

Convenient, Affordable Chiropractic Care in Belleville
We want to make sure you have the payment options that will work for you. We can set up a plan to spread the cost of your care over time. We accept American Express, Visa and Mastercard. We're able to set up automatic withdrawals from your card to save time at your appointments. You'll receive everything you need from us to submit bills to your insurance, which you can do on an app for quick reimbursement.
Same-day visits and virtual consultations are available so you don't have to wait to get started. Call us at (613) 966-4725 or book an appointment online now!

Book Your Appointment Online

Contact Belleville's 5-Star Rated Chiropractor Today
Call (613) 966-4725

Expert Chiropractor Serving Belleville & Quinte West
Chiropractic Generation is conveniently located in the Quinte Mall. You'll find us around the corner from Goodlife, on the second floor overlooking the food court.